3M Green Corps Reinforced Weld Grinding Wheel, 01991, 3 in x 3/16 in x 3/8 in
3M Green Corps Reinforced Weld Grinding Wheel, 01991, 3 in x 3/16 in x 3/8 in
Built for tough weld grinding
Fiberglass cloth screen scrim reinforcement adds strength and wheel life
Aluminum oxide mineral abrasive is durable, cuts fast, and performs well on many surfaces
3" size, 3/16" thickness is ideal for right angle grinders and hard-to-reach grinding applications
Specifications
| | |
| --- | --- |
| Application | Coating Removal, Gasket Removal, Grinding, Metal Shaping, Oxide Removal, Paint Removal, Rust Removal, Spot Weld Cutting |
| Attachment Type | N/S |
| Brand | Green Corps™ |
| Case Quantity | 10 Packs per Case |
| Center Hole Diameter | 0.375 in |
| Center Hole Diameter (Metric) | 9.53 mm |
| Color | Green |
| Grade Range | Coarse (24-P120) |
| Max RPM | 20375 |
| Mineral Type | Aluminum Oxide |
| Number per Inner | 5 per Pack |
| Overall Diameter (Imperial) | 3 in |
| Overall Diameter (Metric) | 76.2 mm |
| Performance Level | Better |
| Product Form | Wheel |
| Sanding Method | Machine |
| Sanding Surface | Metal |
Details
Built for tough weld grinding
Fiberglass cloth screen scrim reinforcement adds strength and wheel life
Aluminum oxide mineral abrasive is durable, cuts fast, and performs well on many surfaces
3" size, 3/16" thickness is ideal for right angle grinders and hard-to-reach grinding applications
3M™ Green Corps™ Reinforced Weld Grinding Wheel features extra-durable reinforcement for added strength and longer life during weld grinding operations. A tough fiberglass cloth screen scrim adds reinforced performance and longer wheel life, and supports aluminum oxide mineral abrasive. These 3" resin-bonded wheels are great for cutting spot welds and grinding hard-to-reach areas.
Reinforced for Tough Weld Grinding
Rigid and tough in every detail, our 3M™ Green Corps™ Reinforced Weld Grinding Wheel is a small yet powerful tool for weld grinding, removing welds from internal angles and other tough grinding applications in collision repair. This 3" wheel features a tough scrim made from fiberglass cloth screen for reinforcement and longer wheel life. The 3/16"-thick wheel is ideal for use on right angle grinders, and for grinding in hard-to-reach locations. Resin bonding resists heat, and tough aluminum oxide abrasive cuts fast and lasts longer than other abrasive materials.

Safe and Secure Attachment
A 3/8" threaded center hole makes for secure attachment to handheld grinding equipment (PDF, 12.95 Mb). The Green Corps™ Reinforced Weld Grinding Wheel must have a maximum operating speed greater than or equal to the maximum operating speed of the grinder used, and on a right angle grinder must be run with a wheel guard that is designed specifically for the size of wheel.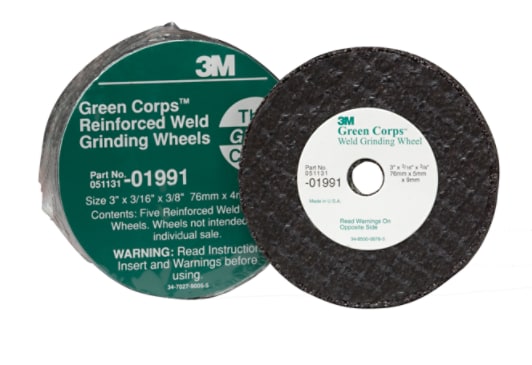 The aluminum oxide mineral abrasive is popular because of its fast cut-rate and long life